Making your own Christmas ornaments can be so much fun and can give your Christmas tree a very unique look, especially with a gorgeous felt ornament craft like this one! Recreate this gorgeous pinecone felt ornament craft and make your christmas tree even more beautiful .
Hi friends! Jelica from A pretty fix again, and today I'm sharing with you a felt ornament craft I am very excited about.
While I was thinking about what sort of Christmas crafts I would be creating this year, I happened to be going through a stash of craft supplies in the basement (isn't that where all the best supplies end up?) and saw that I had hidden away several sheets of white felt. The felt was leftover pieces from a craft project that I did last Christmas, that so happened to be written for pastels and Macarons! The craft is a felt wreath that I shared this time last year. So, in the spirit of consistency 😉 and in the name of all that is soft and cozy at Christmas time, I decided to share with you this felt pinecone ornament tutorial. It's simple to make and such a lovely addition to your Christmas decor.
Let's get started!
Christmas Felt Ornament Craft

*This post may contain affiliate links for your commission. If you purchase from these links I may earn a small commission at no extra cost to you. For more information please read my disclosure policy. 
MATERIALS
How to Make the ornaments!
Step 1:  Cut Felt Strips
Cut the felt sheet lengthwise, creating 8 or 9 strips, with each one being one-inch wide (I only needed 8 for this project, but you may need more or less, depending on the size of the Styrofoam egg). Taking one of the strips, snip 1/2 inch cuts along the length at 3/4 inch intervals. This will create a fringe appearance. Cut the corners of each fringe, creating a scalloped edge. Repeat for each strip of felt. The picture below shows the process at various stages, with the completed scalloped edge at the top.
Step 2:  Roll Up One Strip
Taking one strip of scalloped felt, begin rolling it.
Add a dab of hot glue on the end of the strip and attach to your roll. The rolled up felt will create the tip of your ornament to be attached to the Styrofoam egg with 3 or 4 pins.
If you don't have time to DIY, here are some beautiful ornaments we absolutely love!


Step 3:  Attach Scalloped Strips
Begin attaching the remaining felt strips to the Styrofoam egg. Use one pin at one end, wrap around, and then pin the far end.
As you get closer to the base, your felt will begin to bubble.
Simply snip the bubbled edges off and secure loose ends to the Styrofoam with pins.
Step 4:  Add Ribbon & Individual Scallops
Before completing the base, add your ribbon to the base with dabs of hot glue and pins for added security.
Next, snip the final strip of felt into individual scallops and glue onto the base of the egg. Tie a bow and pin to the base.
Now hang your ornament on your Christmas tree!
I had a lot of fun creating this felt pinecone ornament and am please with the final results. I hope you give it a try in your own home this season. Happy crafting 🙂
If you want to add other pretty ornaments to your tree, here are ever more beautiful ornaments you may love!
IF YOU ENJOYED THIS POST, THEN YOU MAY ENJOY OTHER CRAFTS FROM 'A PRETTY FIX' LIKE THIS DIY EMBROIDERY HOOP ORNAMENT.
ADD SOME PIZZAZZ TO YOUR DECOR WITH THESE SIMPLE YARN-WRAPPED PINECONES.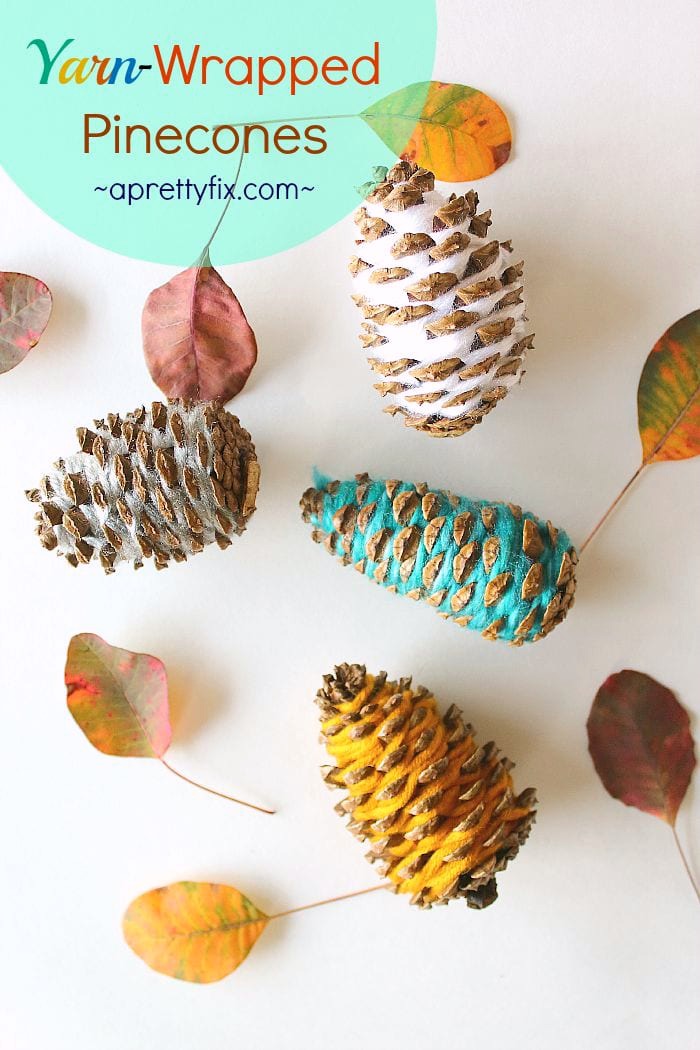 TRY THIS SEASON-BENDING PRETTY PINE CONE WREATH DIY TO TAKE YOU FROM FALL TO WINTER.
Here are some other Christmas Posts by Pastels & Macarons!
Make the perfect Handmade Christmas Basket for the special ladies in your life!