Learn to make this DIY Faux Wildflower Wreath without using glue or floral wire! It's SO easy to make!
If you want a simple and quick floral wreath to make but lack the time well this DIY Faux Wildflower Wreath is your go to project! Have this pretty hanging up in your home in no time.
Hi Everyone! It's Jelica from
A Pretty Fix
and it's great to be back sharing another tutorial with all of you lovely readers of Pastels and Macarons. Like you, I am a big fan of Maria's creative and crafty inspirations and am more than a little honoured to be making a small contribution today and sharing my DIY Faux Wildflower Wreath!
Wreaths are definitely one of my favourite seasonal crafts to make. I love browsing my local craft store and seeing all the synthetic flowers on display. And they are so lifelike these days! It's astounding how far faux flowers have come. In fact, it was during one of my usual excursions to find supplies for another craft project that I happened upon a whole display of beautiful wildflowers of varying hues and colours – on sale, too 😉 I was so excited by what I saw that I knew I had to return to pick up a stash for a couple of craft ideas that were already swirling in my head. Although we are still waiting for that last bit of snow to melt here at home, I decided that these wildflowers would be a great way to welcome spring (and maybe give it a nudge in the right direction) by creating a DIY Faux Wildflower Wreath to hang on my front door.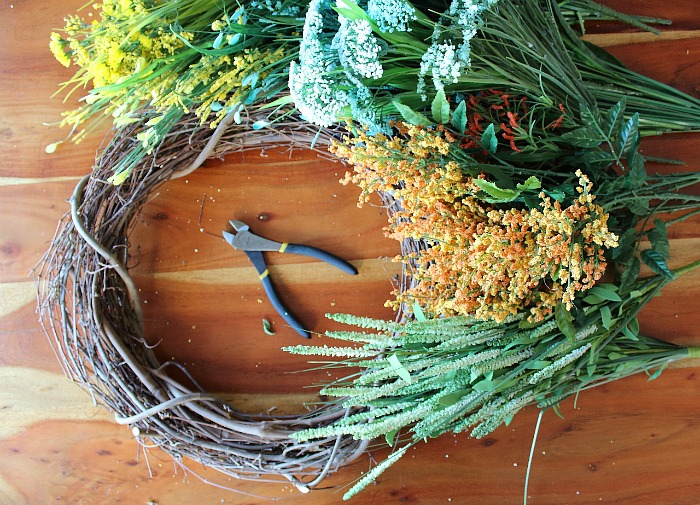 WHAT YOU'LL NEED TO RECREATE MY DIY Faux Wildflower Wreath
To create your own DIY Faux Wildflower Wreath, you will need the following materials:
Assorted, faux wildflowers
Grapevine wreath
Wire clippers

STEPS 
Step 1: Determine the Design
The first thing to do is determine the design in advance. Since this wreath uses multiple colours in a colour block pattern, simply fan the flowers out to see which order of colours are most pleasing to you. In this case, I had 4 colours and decided to divide the wreath up into
quarters – one for each colour used – and in the order shown.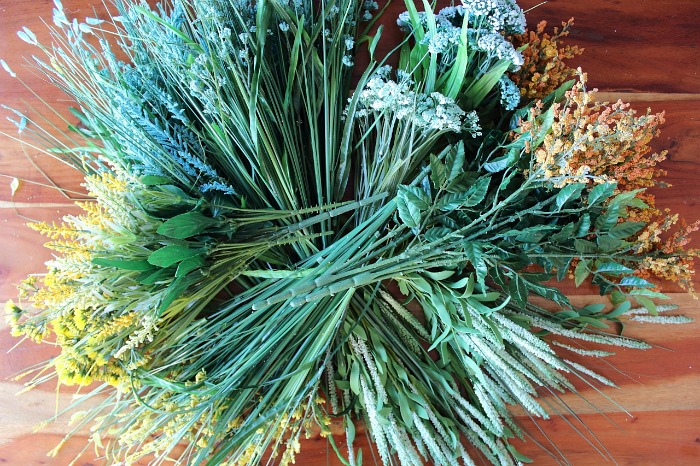 Step 2: Clip off Stems
Taking one of the colour groupings, begin cutting the stems so that you are left with about 6-8 inches.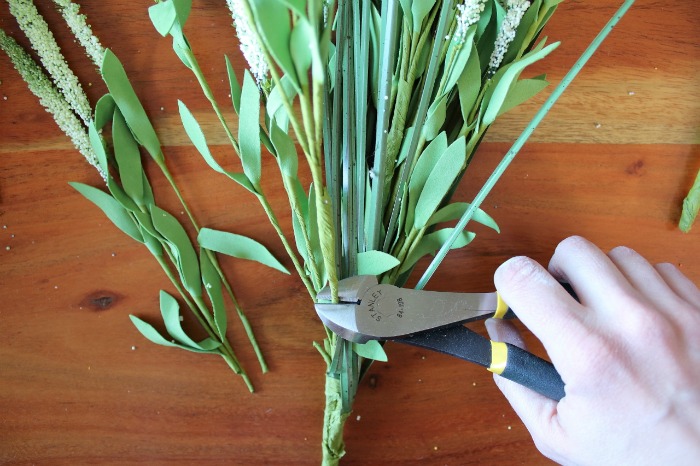 In some cases, you will have a few florals attached to a single stem. As it is a wildflower wreath, this variation will add to the beauty of the design.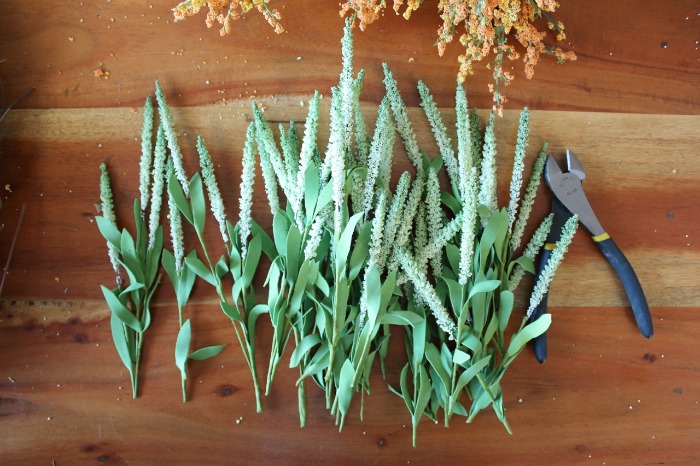 Step 3: Insert Stems
Once you have collected enough clippings, begin inserting the stems between the vines. You will want to have your wreath 'fan' out, so insert on an angle (as pictured) and push about 2-3 inches of stem into the grapevine.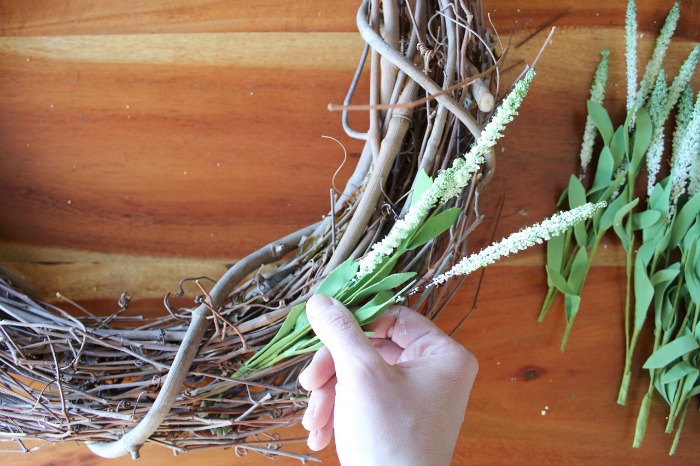 Continue making your way upwards until you have covered one fourth of the wreath.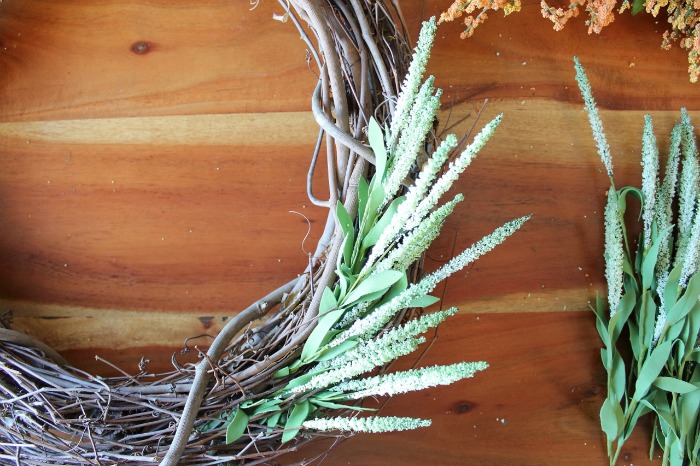 Then move onto the next colour and repeat by clipping your stems…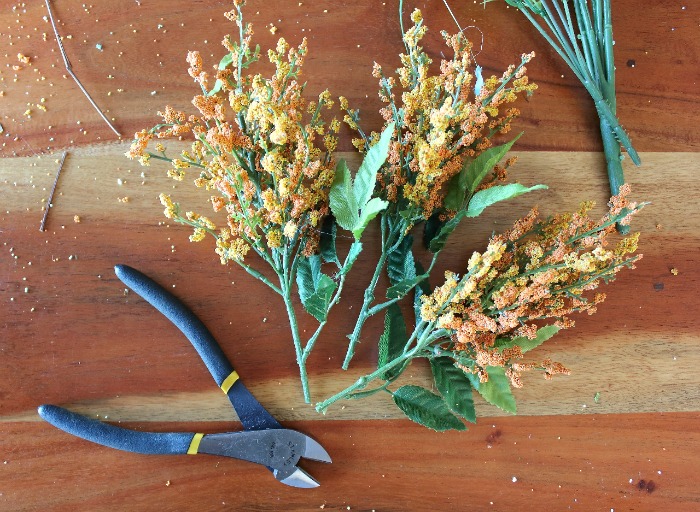 …and inserting them into your wreath.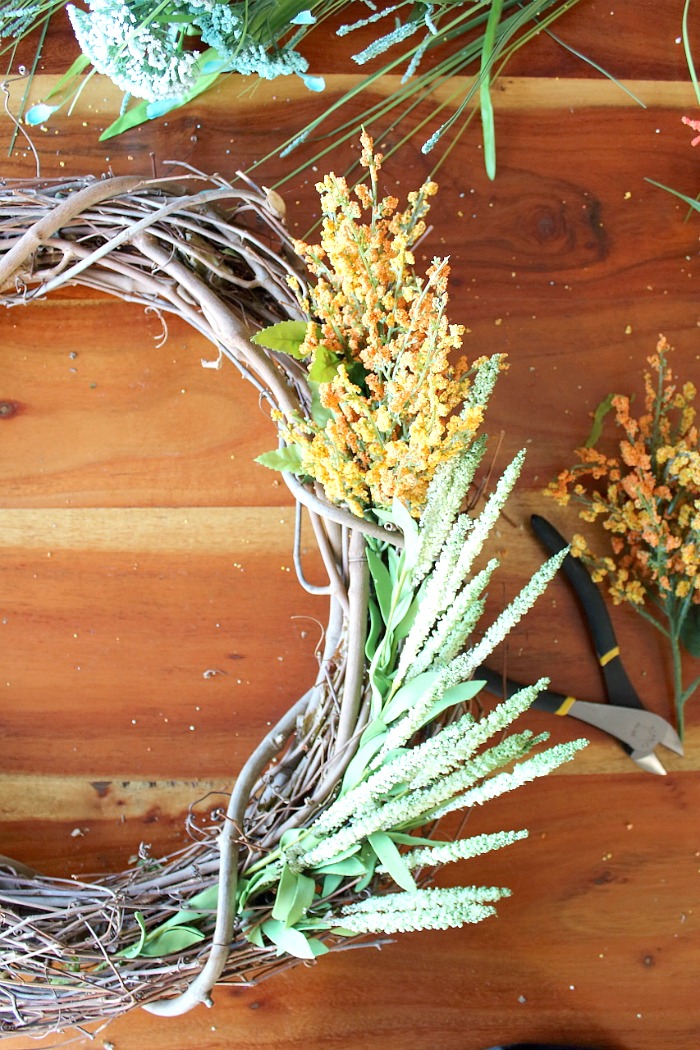 Continue this process with each wildflower variety.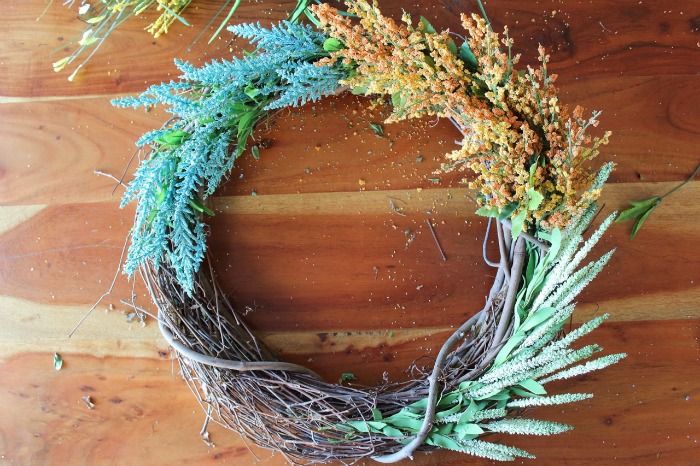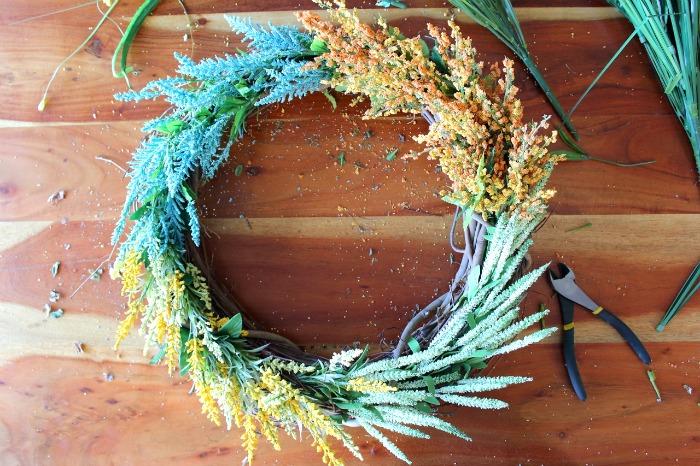 Step 4: Filling In the Gaps
Once you've covered the face of the wreath, take a step back and determine which gaps you want to fill in. For this tutorial, I decided to make the wreath a bit fuller by partially filling in the interior ring.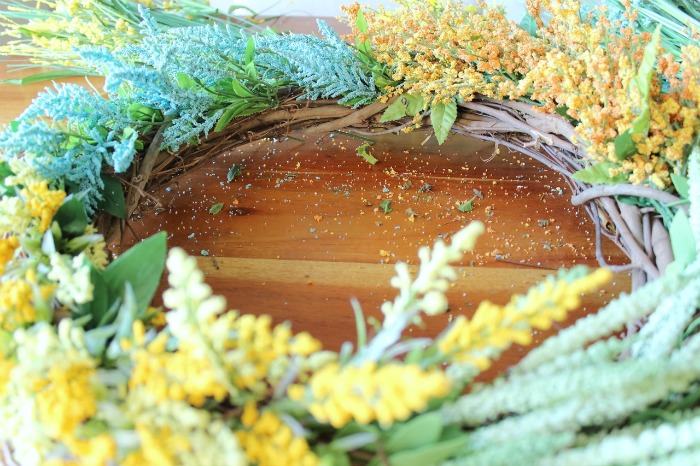 Since each wildflower selected had a different degree of fullness, certain areas of the face of the wreath were sparser than others. If that is the case for you, simply add more wildflowers to those sections as well.
Once you have filled in the gaps and covered the sparse areas with more wildflowers, take a second look to be sure you are happy with the results.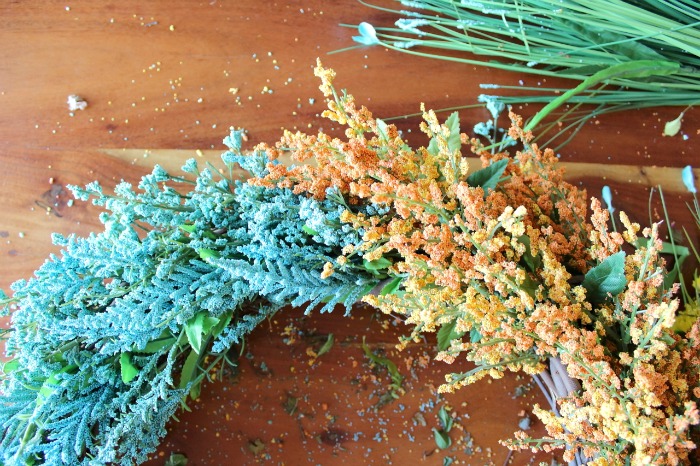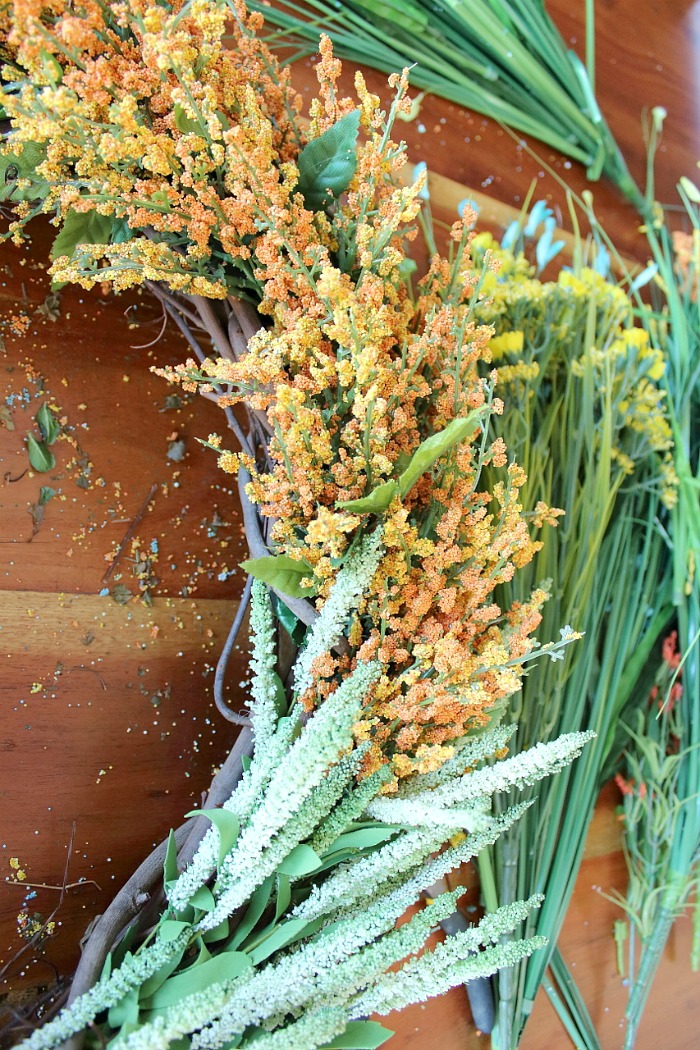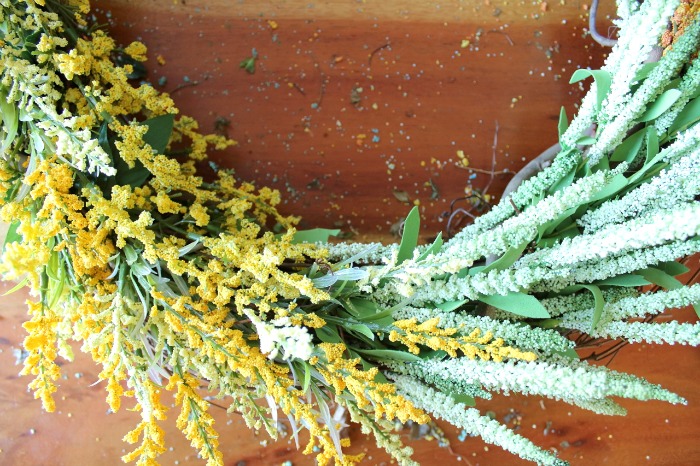 Below is a before and after comparison. It was definitely worth it to take a little extra time to add some fullness to this wreath.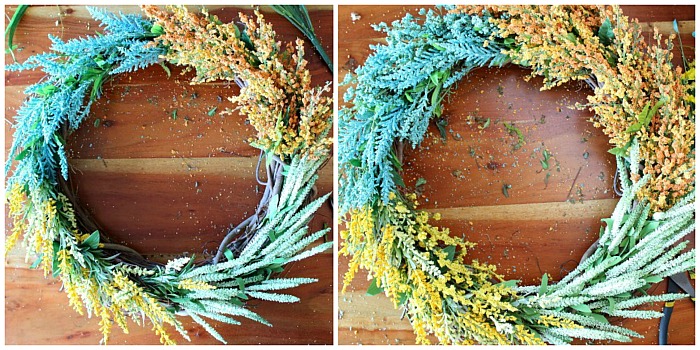 Now simply hang on your door or around your home and enjoy!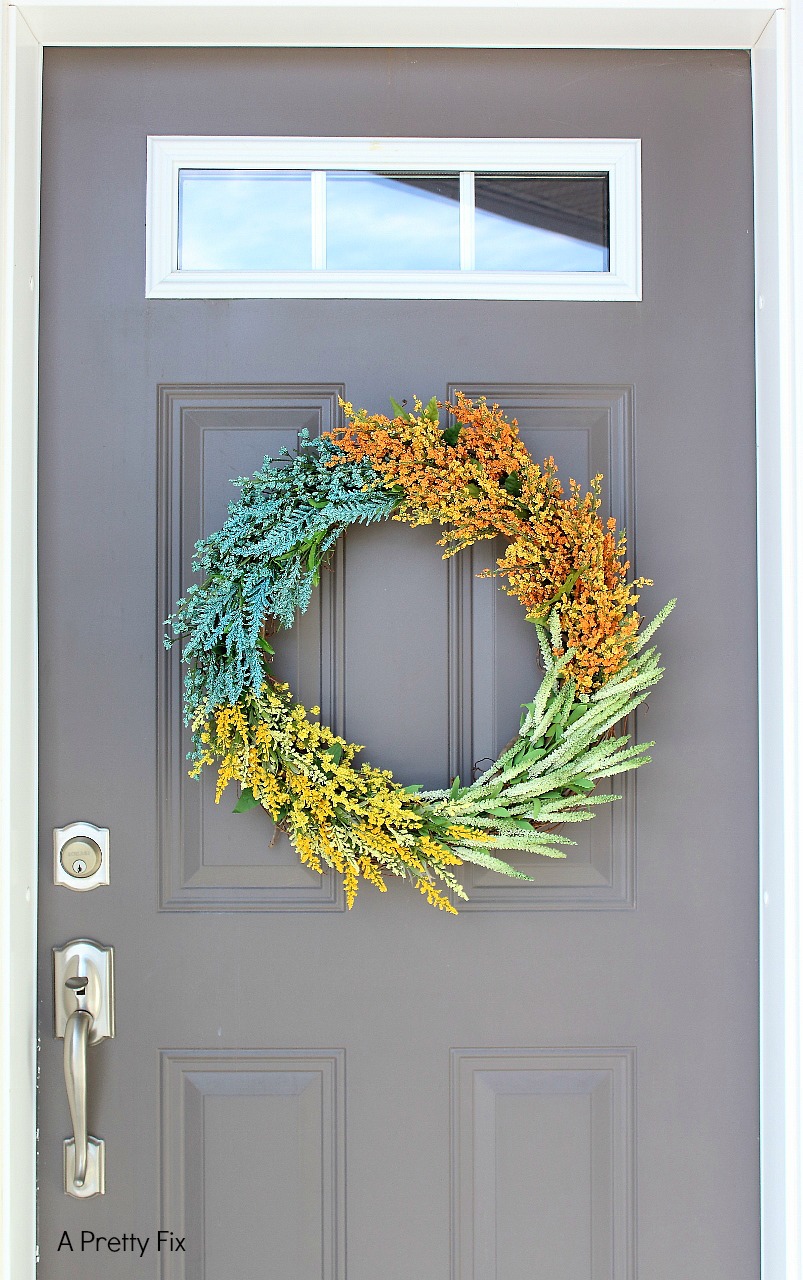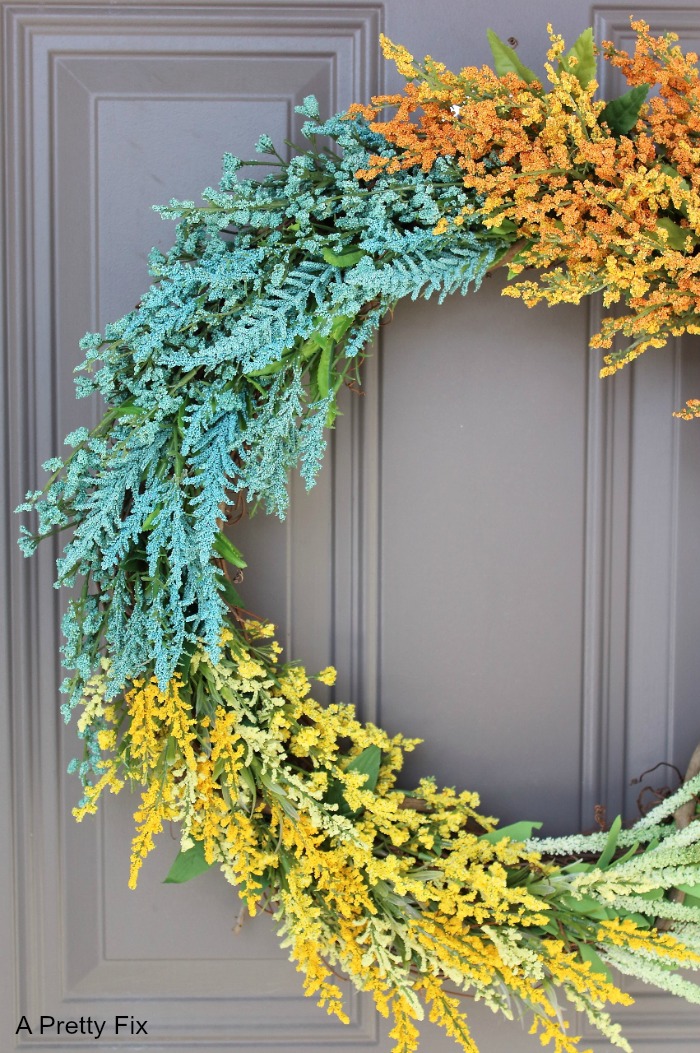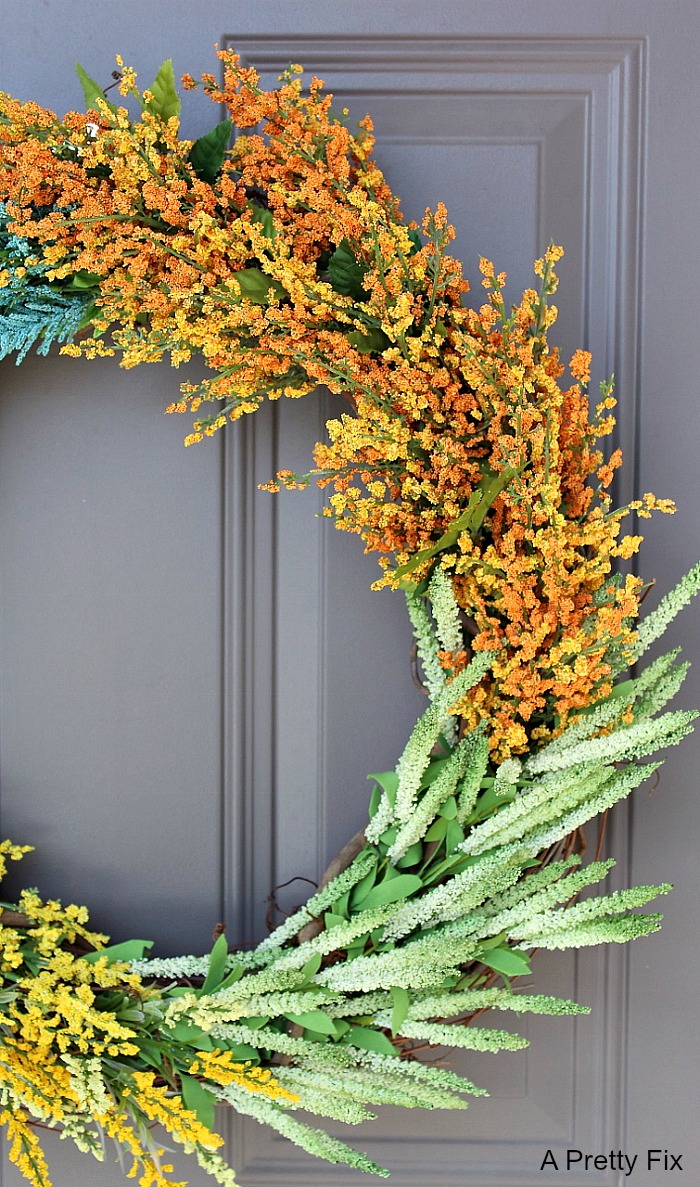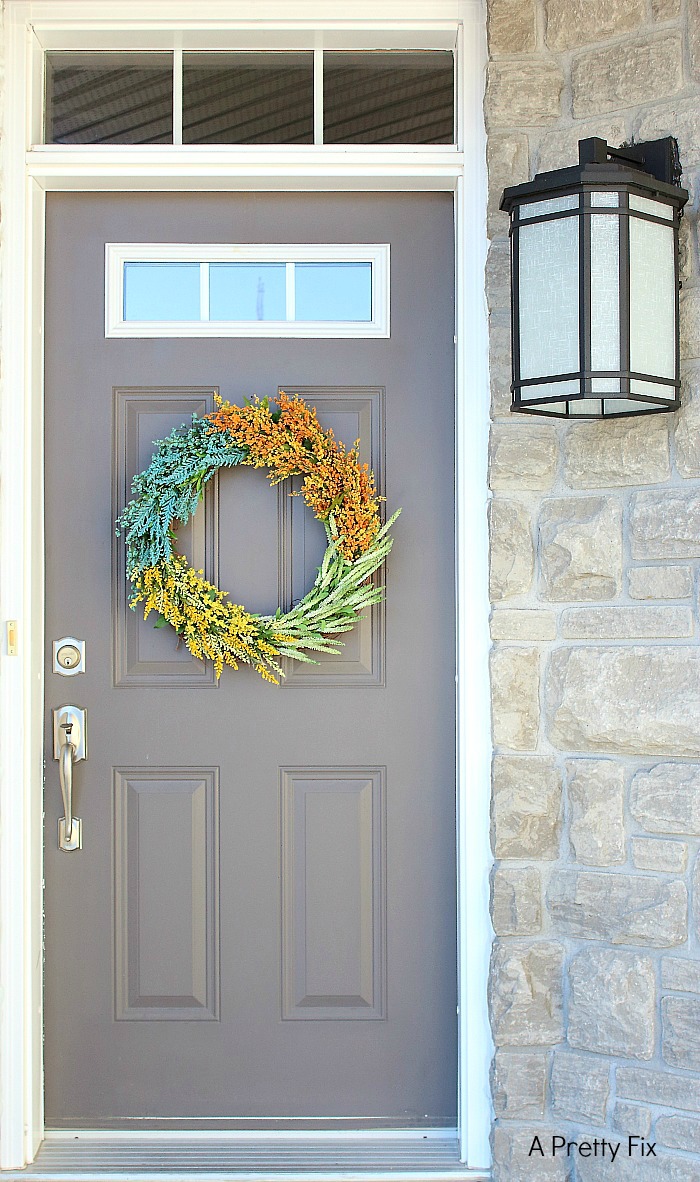 I loved making this DIY Faux Wildflower Wreath. I may even add a ribbon to it later for some added flair. But for now, I am letting this minimal, colour block creation stand on its own.
If you are looking for a colourful craft to do this spring, why not opt for this DIY (faux) wildflower wreath? It will definitely brighten up your door this season.
Happy wreath-making!
LOVE THIS POST?? PIN IT SO YOU DON't FOGET IT!
If you enjoyed this post, then you may also enjoy some of my other DIY projects: