Hello to all of you lovely readers of Pastels and Macarons! I'm Jelica from the home décor and craft blog  A Pretty Fix  and I am so excited to be contributing a guest post here for the first time. Today I have a really cute DIY Minimalist Felt Boxwood Wreath tutorial to show you!
I don't know about you, but I've always adored boxwood plants! There is something so delicate, yet strong and beautiful, about them. And at this time of year, they are the perfect plant to incorporate into any aspect of holiday décor, from little clippings used to adorn gifts or place cards to long garlands and, of course, wreaths both slender and robust.
For this project, I wanted to create a chic and modern wreath, but one that could last. Turning to felt – one of the most versatile and easy-to-find craft materials out there – I decided to interpret the delicate green leaves into soft white ones that wouldn't die out! I knew it would be the perfect complement to my Christmas décor which, for the past couple of years, has been a mixture of whites and creams and mixed metals of gold and silver. I love how these soft colours contrast so well with the deep green of our Christmas tree as well as all the lovely greenery normally sprinkled throughout the home.
If you are also looking to create a wreath that will last, why not try this DIY Minimalist Felt Boxwood Wreath for your home this season? For this project, you will need the following materials:
basic white felt
14 inch embroidery hoop
glue gun
scissors
small spoon (oval or 'bowl' end measuring 1 inch by 1.75 inch)
pen or pencil
ribbon
First, using the small spoon begin tracing your leaves on your felt.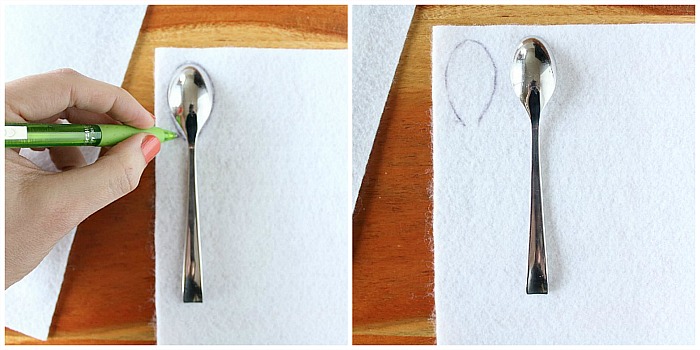 For a 12 inch by 14 inch square of felt, you should be able to fit 46 tracings.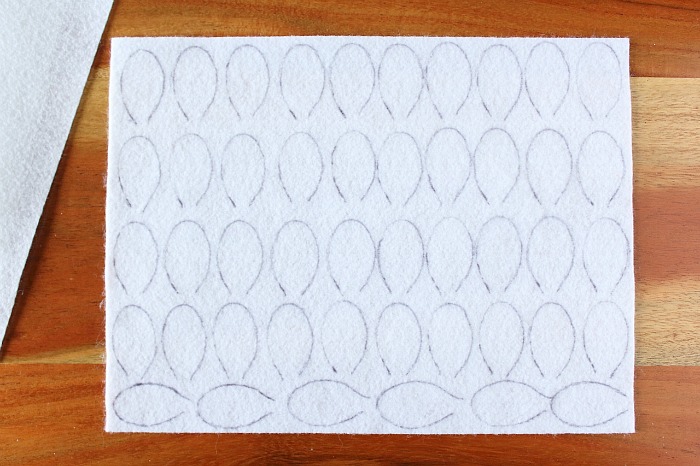 Next, begin cutting out the leaves, taking care to cut just inside the tracings.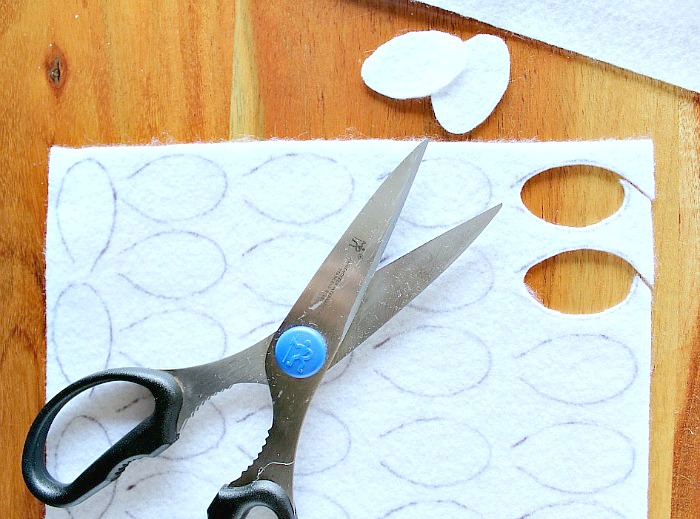 For this project, you will need approximately 90 leaves (using 2 sheets of basic felt).
Once the leaves are cut, it's time to start giving shape to them! This part is a lot of fun, but takes a bit of time. Taking your glue gun, place a dot of glue on one end of a cut leaf, as pictured below.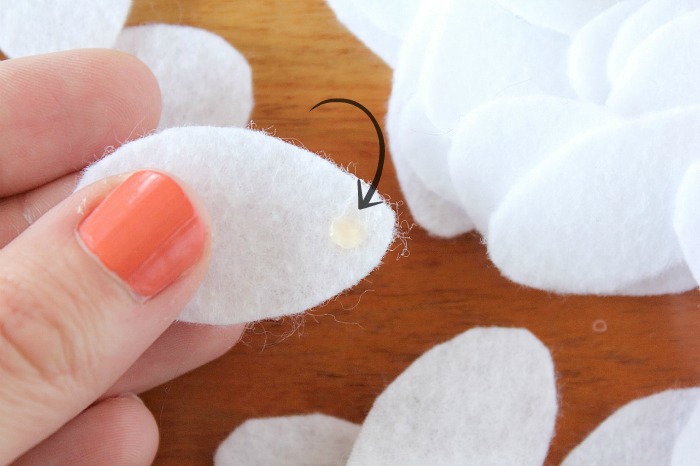 Pinch the base together, waiting a few seconds to allow the glue to dry.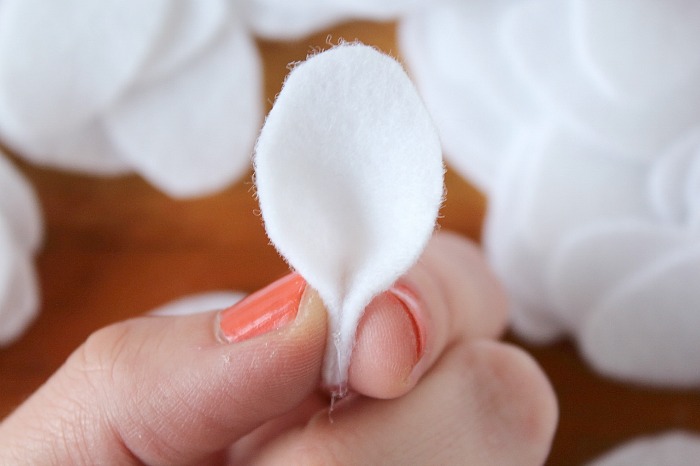 Repeat for each of the remaining leaves.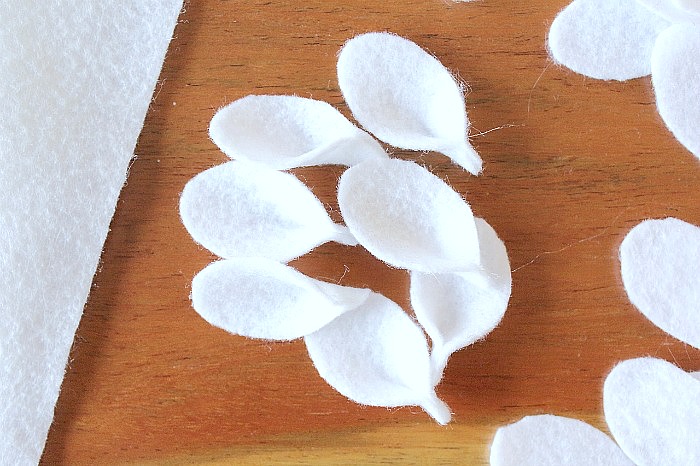 Once you've created your leaves, you are ready to make your wreath. This wreath is made up of two rows of leaves, corresponding with the two rings of the embroidery hoop. First, mark the mid-point at the bottom of the hoop.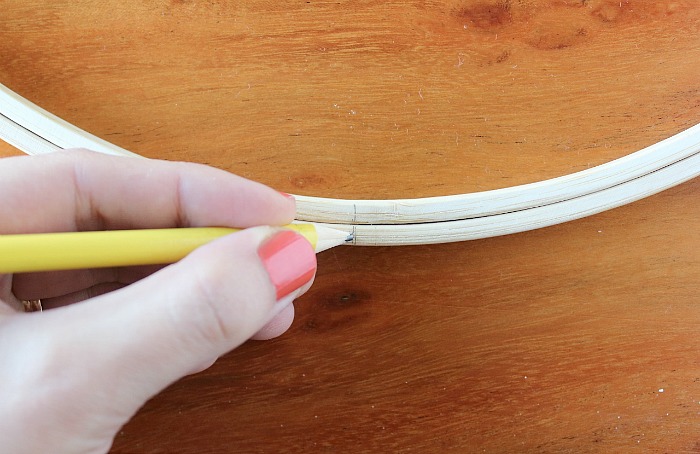 For this wreath, the leaves will radiate outwards from the mid-point. Taking the first couple of leaves, add a dot of glue to the base of the backside of each leaf and glue directly onto the outer ring of the mid-point of the hoop.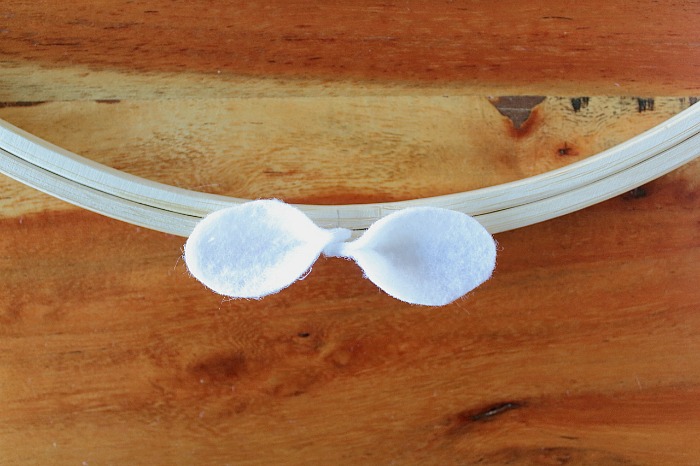 Begin adding your leaves, alternating between the outer and inner ring. Each leaf is placed slightly in front of the previous one in a staggered formation. This creates a more natural and realistic look.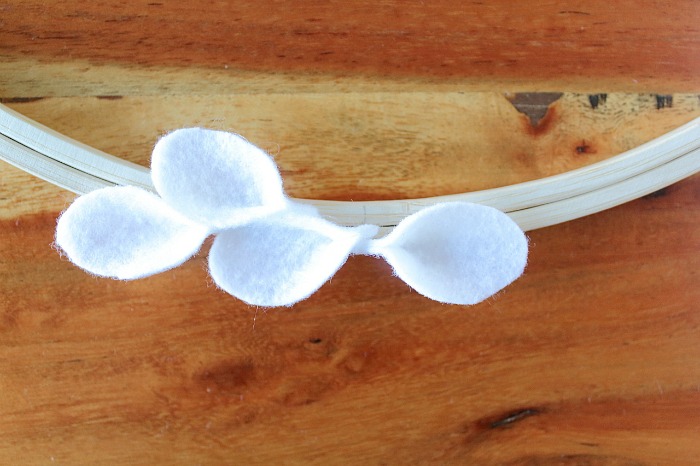 Continue adding leaves in this fashion, alternating from the inner to the outer circles of the embroidery hoop…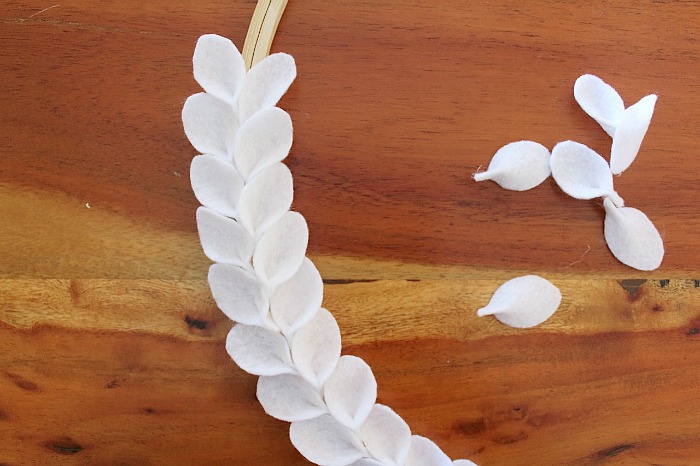 …making your way up both the left and right sides, until you reach the top, mid-point of the hoop.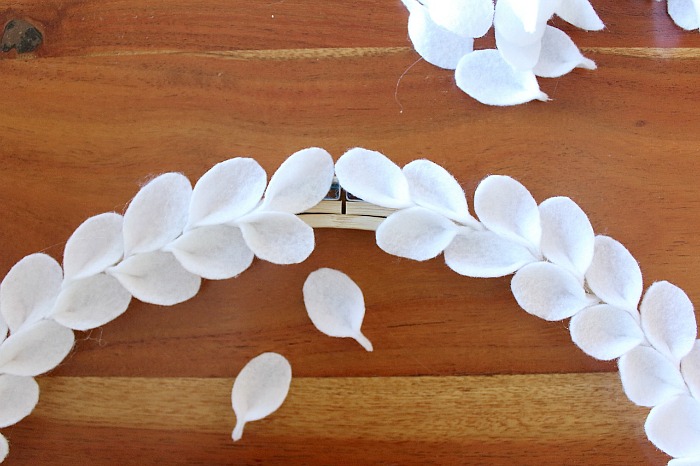 Use the last couple of leaves to cover the bald spot at the top…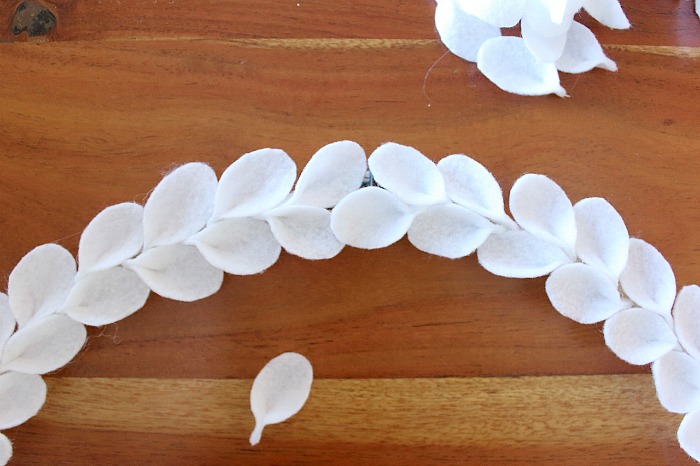 …and at the bottom.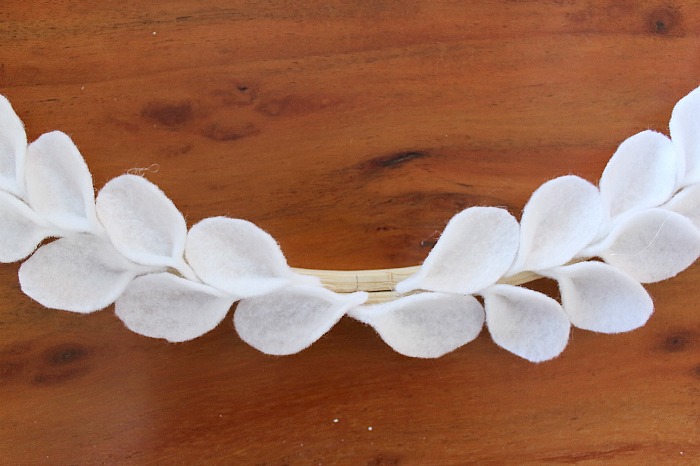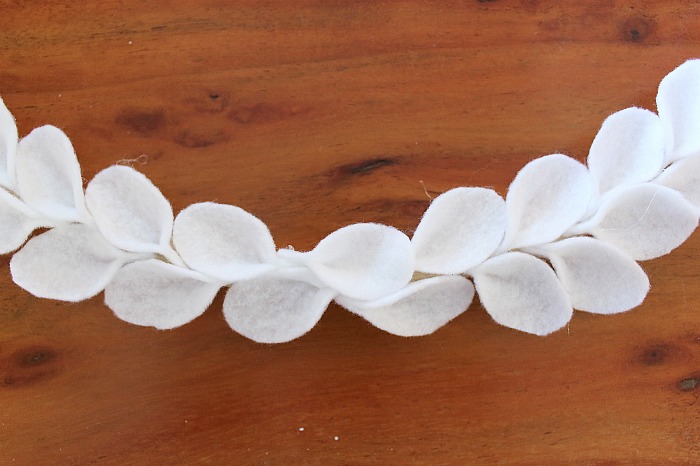 Before hanging your wreath, take a closer look to make sure you are happy with your creation.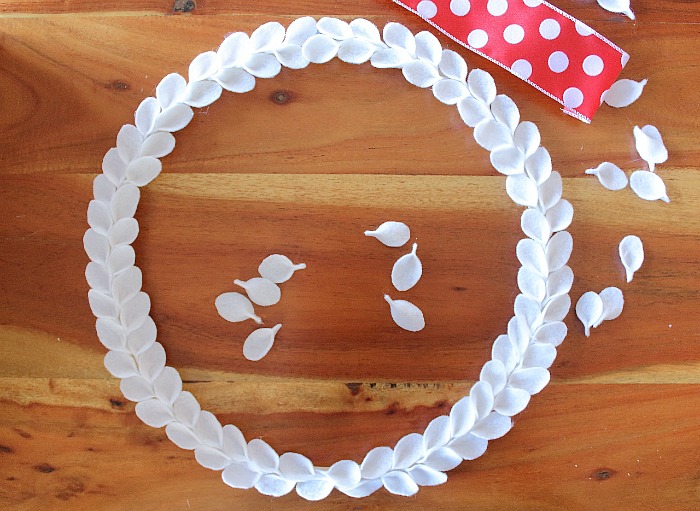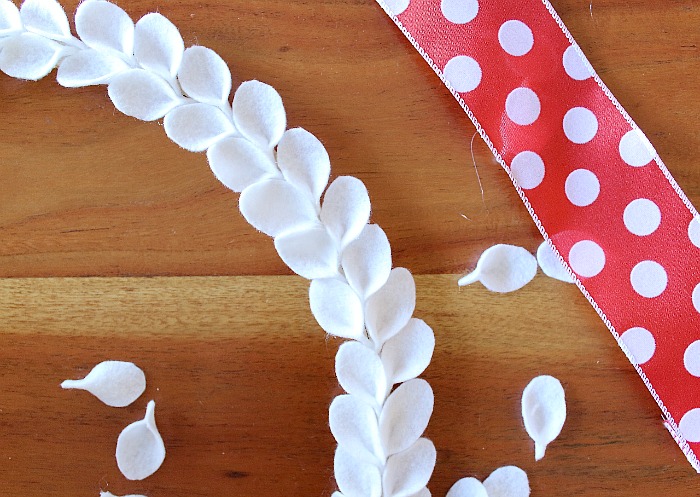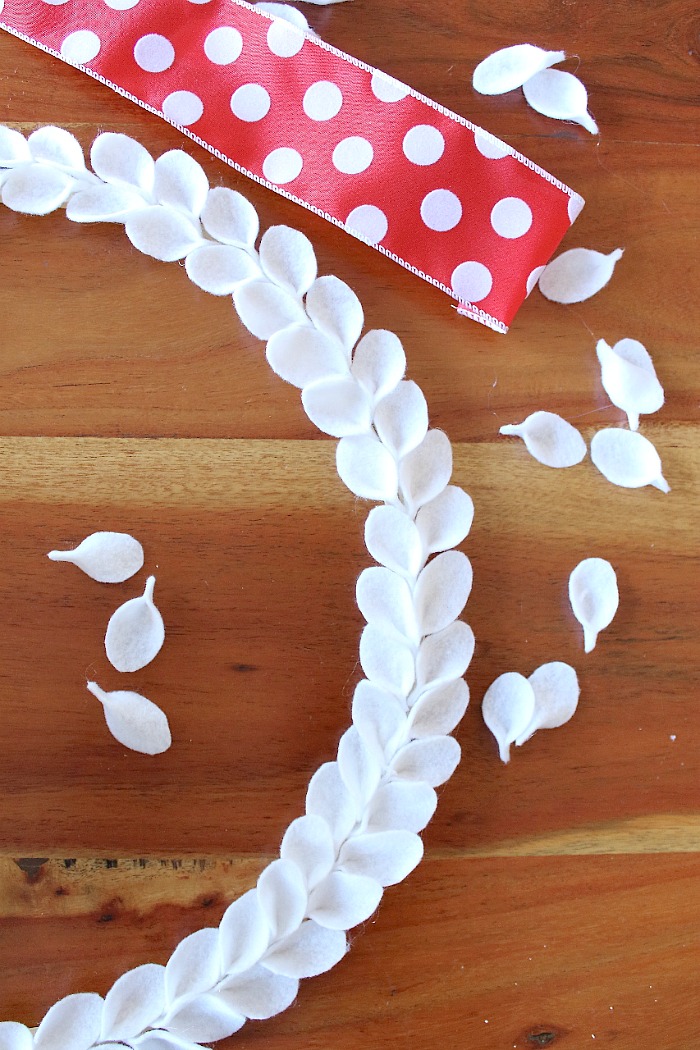 If you need to pull off a leaf or two to replace them, go ahead and do it – they can be replaced in a snap. Once you are satisfied, add a festive ribbon and hang your wreath!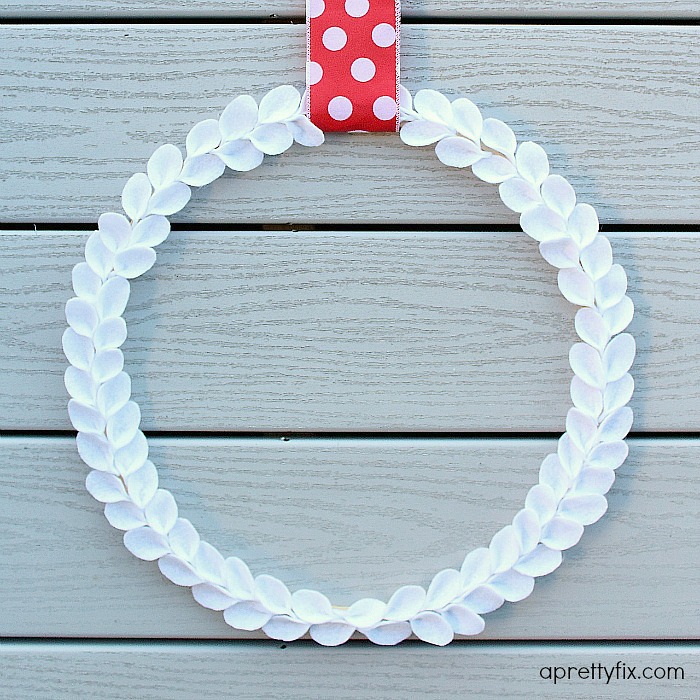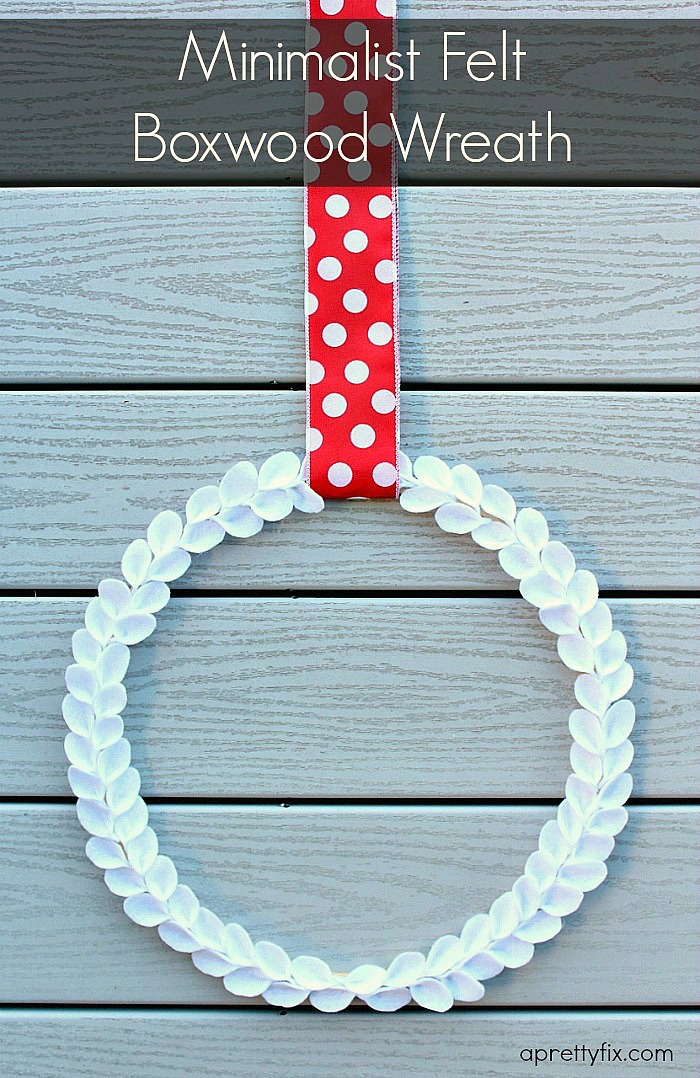 This minimalist felt boxwood wreath is the perfect modern Christmas craft project to do this season. Not only is it a chic and pretty addition to your holiday décor, but it is a DIY that lasts! Merry Christmas everyone 🙂

If you enjoyed this post, then you may also enjoy some of my other DIY projects: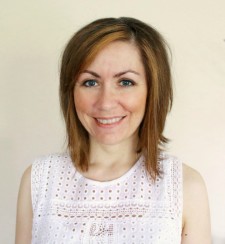 Jelica is the author of the home style & craft blog A Pretty Fix. After moving into her first home in 2010 with her hubby & fur-babies (aka her cats Napoleon and Alexander), she has applied her passion for home style to their new-build bungalow. Launching her blog in July 2015 has been the most rewarding & creative outlet for all her décor & craft projects which she posts each week. A self-described home style enthusiast, Jelica views her home as her "muse," a place to dream, create, try and fail, a place to see beauty in imperfection, and always enjoy the journey! To see the latest projects at A Pretty Fix you can find her here: Facebook  /  Twitter  /  Pinterest